How to get rid of unwanted hair and keep your tan?
Your got an amazing sun tan after visiting resorts or a tanning salon. How to keep a tan as long as possible, especially if it's epilation time?
Epilation after getting suntanned
First, avoid having epilation immediately after sunbathing. For the first days after receiving a dose of ultraviolet your skin's upper layer is very sensitive and can be easily injured. Therefore, wait a week before going to the salon for hair removal. What is the best procedure?
Laser or photo epilation is not suitable for a dark skin. The rays react to melanin, which is found not only in the hair, but also in the dark skin, so there is a risk of getting burns. The razor or wax will quickly "remove" your golden tan.
The gentlest method is sugaring. The sugar paste does stick to the skin not so strongly as wax, it mainly enfolds the hairs. Therefore, you can keep a tan for a longer time. But you need to observe some rules.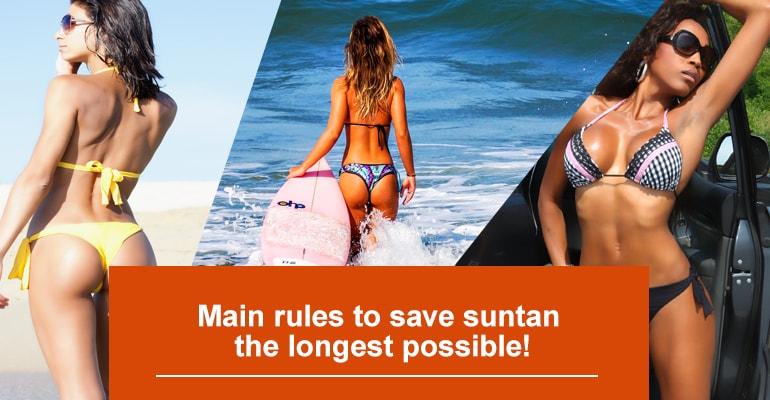 Sugaring rules for the tanned skin
After sugaring the skin needs care. To keep your tan longer, follow the simple rules:
gentle peeling - is done every 5 days with a soft sponge or a fine-grained light scrub;
constant moisturizing - tanned skin especially needs it, so it is advisable to moisturize it twice a day;
use of creams and serums that slow down the hair growth - so you will not have to do hair removal for a longer time;
for a while avoid using products preventing ingrown hairs – they contain acid that can discolor your tan.
What else can damage your tan?
Hot baths, baths and saunas - the skin softens, and the tan quickly wears off.
Creams, tonics, lotions containing vitamin C, any acids, cucumber extract - all this whitens the skin.
If you decide to visit the tanning salon to maintain your tan, remember that it can be done only 3 days after epilation.
As you can see, you can get rid of unwanted hair and keep a nice tan at the same time if you follow the simple rules.