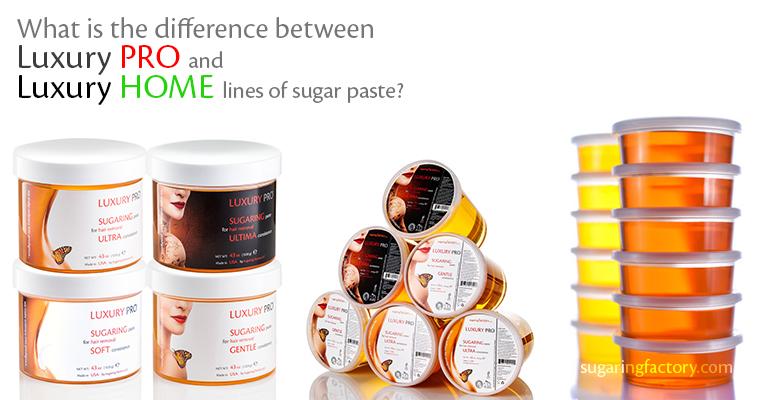 What is the difference between Luxury PRO and Luxury HOME lines of sugar paste?
The main difference between Luxury HOME and Luxury PRO paste is that the first one is designed for home use and application by novice practitioners, and the second one is for experienced and skilled professionals. They share many qualities - both pastes are completely environmentally friendly and organic. The production is located in California, USA. The pastes of both lines: Luxury PRO and Luxury HOME can be used without special equipment. Let us briefly look at the main differences between these products.
This paste is specially created for home use, for beginners and for the salons with not many clients. It is the best solution for those who are learning and have not yet mastered the skill of sugaring yet or works at a slow speed.

Its special feature is tolerance to kneading: the paste can be kneaded for a long time, or it can be held on the body longer than others, and it does not spread or gets stuck. This product is relatively tolerant for the practitioners "imperfections of the technique". It's suitable for various techniques, including a bandage one. But for the bandaging technique, the best paste is the Soft one, warmed up to the consistency of a liquid honey it will minimize the amount of paste used. To make the paste softer, just warm it up with your hands or mix it with soft kinds of the paste.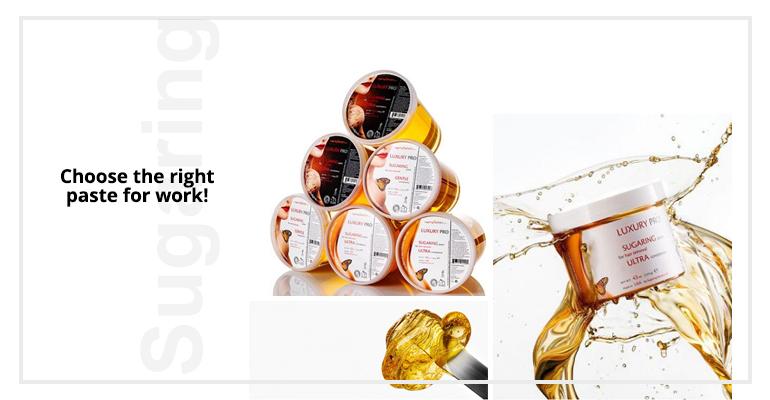 All SUGARING FACTORY pastes perfectly mix with each other, so you can easily achieve the right consistency comfortable for work.
Luxury PRO is a paste for professionals
An excellent solution for professional hair removal from any skin areas: bikini, legs, arms, armpits. Can be used for all hair removal techniques. It's the first choice of the professional estheticians. Suitable for experienced practitioners, as it requires a high level of skill and right-hand positioning. The paste must always be moving.

Differences in composition:

Luxury Home paste has a completely natural composition, which includes lemon juice, water, and sugar. It does not contain preservatives, flavors or thickeners, so it can be used even for the very delicate and sensitive areas, depending on the paste's density. It is hypoallergenic and does not need to be warmed up. It's very efficient and allows you to achieve amazing results!
Luxury Pro consists only of water and fructose. The paste does not contain any preservatives, not even lemon juice. It is so pure and organic that it can even be put in tea instead of honey.

Summary: If you are a beginner, feel free to experiment with Luxury HOME! And if you are a pro - choose Luxury PRO.
Try both pastes, choose the most suitable or mix them together!

The result will surely satisfy you - both products are of high quality for professional use in salons.