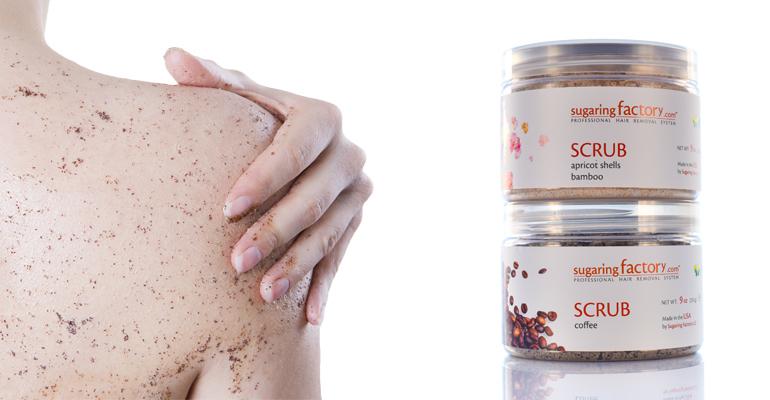 Scrubs from Sugaring Factory are created in our laboratory especially to increase the effectiveness of the hair removal procedure.
Usual scrubs may contain additional moisturizers and fragrances which make them more comfortable and convenient to use at home but have a disastrous effect on the process of removing unwanted hair.
Moisturizers, as well as all kinds of oils, create an invisible film on the skin surface and reduce the efficiency of the procedure to almost none. Sugaring paste won't stick and work properly! That's why we created a unique recipe for our dry scrubs. In addition, the dry scrub is very easy to use. It can be used before the procedure and it's easy to remove its residue with a dry towel afterward. Dry scrubs are part of our exclusive Sugar System which consists of several steps to improve the efficiency of the procedure up to 100%
How to use dry scrubs?

Before the procedure, apply a small amount of scrub on the dry, clean skin, and lightly massage it in with circular movements. "Lazy" hairs that adhere to the skin will rise, and the remains of the keratinised layer will easily peel off.

Use a special lotion or warm water and a towel to remove the residue. Then proceed with the sugar paste.

IMPORTANT: do not use scrub on sensitive and gentle areas, such as the bikini area or armpits! The best areas to use it on are legs, hands, and back. We also encourage you to recommend your clients to use dry scrubs at home after the sugaring procedure, but not earlier than 24 hours after the procedure. The skin should rest. Using dry scrub regularly between the procedures of sugaring (in about 2-5 weeks after the procedure) helps to reduce the risk of ingrown hairs to a minimum and allow one's skin to breathe and quickly regenerate.
Scrubs Sugaring Factory - excellent prevention of ingrown hairs!